Click on the "DONATE" button below to Register for the Seminar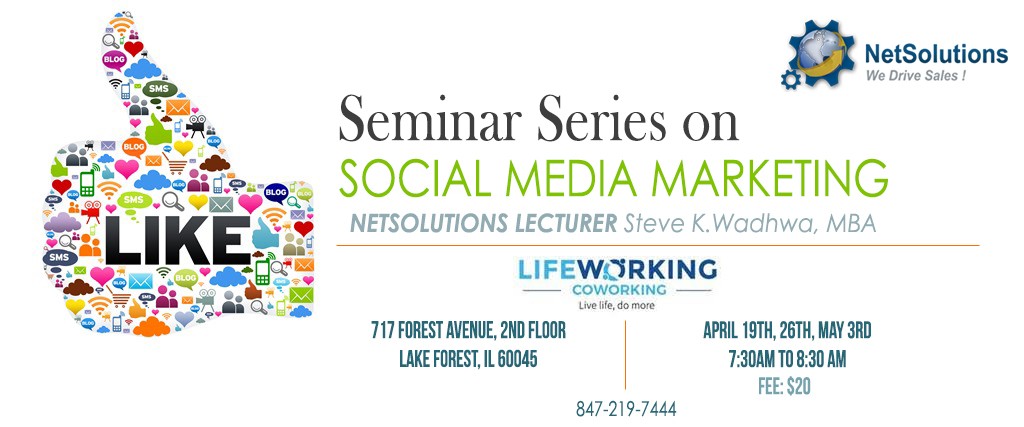 NetSolutions offers a number of Digital Marketing seminars to keep you up to date in the digital marketing world. The Digital Ecosystem is exploding with an abundance of new channels, innovative strategies, and new, robust tools!
How do you keep up with website optimization, search, email, online advertising, content marketing, social, mobile, emerging media and more? Turn to NetSolutions digital marketing seminars – Learn to optimize your digital know-how, bravely use new channels. Learn how to measure your success, fine-tune strategy and optimize your program.
NetSolutions is a "Boutique Digital Marketing" firm serving clients from Fortune 100 firms to Small Businesses in US, Europe & Canada for 25 years.
Seminars will be taught by Steve K. Wadhwa MBA.  He attended Kellogg School of Management at Northwestern University.  He is also a lecturer at the Graduate Program – Medill School of Journalism at Northwestern University in Digital Marketing.
Seminars are being hosted by LifeWorking Coworking Lake Forest – a "New-Way-to-Work" Place, serving the Northshore and Northwestern suburbs. LifeWorking  truly is "New-Way-to-Work" place, with a mix of open office space, professional conference rooms and private offices. The unique community environment promotes collaboration, networking and learning while respecting the need for productivity and privacy. LifeWorking is for entrepreneurs, freelancers, corporate commuters, small businesses and professional services companies.
Topic: Facebook Marketing 101
Dates: April 19, 26 and May 3 (Wednesdays)
Time: 7:30 AM to 8:30 AM
Location: Lifeworking Coworking.    717 Forest Avenue, 2nd Floor.
Lake Forest, IL 60045
Donation: $20